5 Things we Love about Thrashin'
The year of 1986 was excellent by all standards - The writer of this article was born then, Friday the 13th part VI: Jason Lives came out the same year, and Van Halen's 5150 was voted the album of the year by the Rolling Stones
The year of 1986 was excellent by all standards – The writer of this article was born then, Friday the 13th part VI: Jason Lives came out the same year, and Van Halen's 5150 was voted the album of the year by the Rolling Stones Magazine. On the other hand, skateboard culture was on the rise, and the proof of it lies in the fact that it got its homage in the '86 classic called Thrashin', starring young and hot Josh Brolin (who turned 50 this February!)
The basic plot of the movie unequivocally reminds us of those Shakespearian love tales, such as Romeo & Juliet, but with a happily ever after, of course. There are, however, some other factors that we believe contributed to the film's cult status, so stay tuned to find out more.
#1 Killer soundtrack
You know that feeling when the movie starts with a powerful opening sequence accompanied by even cooler opening theme? Well, this is something you can definitely expect to see in Thrashin'! The eponymous tune composed by no one else but Meat Loaf kicks off amazingly, leading us straight to the careless world of a teen, nostalgic, Californian summer for which we are sure will be packed with loads of action and teenage romance.
Don't Think Twice by France Joli is a touching power ballad that follows Cory and Chrissy's bonding in the best possible way while Staring Down the Demons by Animotion makes an excellent fit to Cory's efforts to take part in the L.A. Massacre despite his arm injury. Other honorable mentions: Arrow Through My Heart by Jimmy Demers.
#2 Brolin's Insanely Good Looks
What we get to know about Brolin's character, Cory Webster, in the beginning, is that he comes from the Valley for a famous (or rather infamous?) L.A. Massacre race, and it seems that he's 100% ready to conquer the world. Cory is the absolute epitome of all 80s beauty male standards, with ripped muscles, blond hair, and overall fantastic physique which will grant him both the hearth of his crush, Crissy, as well as the chance to make all his dreams come true.
#3 Red Hot Chili Pepper's Performance
Even though the Anthony Kiedis & Co. performance might seem a bit odd at first sight, especially given their innovative music approach which had nothing in common with then-popular music, the band's appearance in Thrashin' made it pretty evident that the band was the herald of the new time that would come in only four years. Moreover, Black Eyed Blond by RHCP, which is included in Trashin' OST, makes a perfect sense observed in the context of central protagonists who are – accidentally or not – both blond. Joking aside, the only dark-eyed blond in the movie is Brolin himself.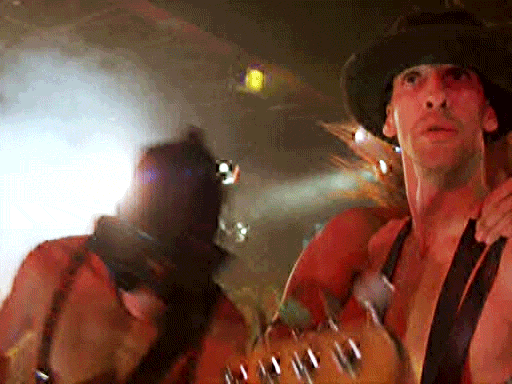 #4 The variety of retro fashion styles we get to see
All the way from punk rock outfits donned by notorious Daggers to somewhat casual combos of the Locals, Trashin' offers a great insight into the favorite styles from the era indeed. The movie, on the other hand, takes place in Venice Beach, meaning that high cut swimsuits are to be seen on every corner too (think sexy chicks with their 80s hard bodies!).
Retro accessorizing is also present, including body paint, oversized jewelry, as well as a variety of crazy hats. Then again, we get to feast our eyes on tight and cropped tanks, high-waist pants, and jeans/leather outfits which are, as you're already guessing, reserved mainly for "villains" and outcasts.
#5 Directing style
For all of us living outside the L.A, Thrashin' offered a view of the city from the entirely different perspective. Remember that epic moment when the guys are skating down the Hollywood walk of fame? We thought so! David Winters did a great job with framing and perspective, which consequently contributed to consistency and beauty of the movie in general.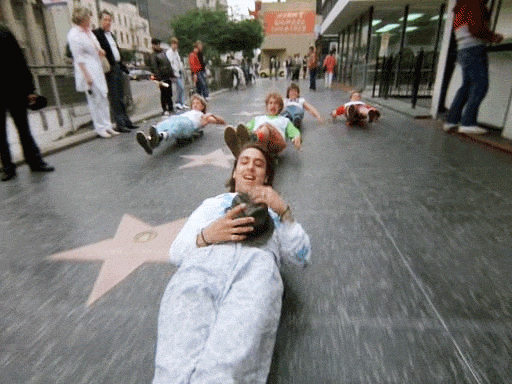 All in all, it seems that this motion picture can effortlessly bring us back to a more innocent time where the main problem was how to win over a girl. A bit naive from today's perspective, we dare say, nevertheless a real treat for all us retro lovers who derive their positive energy straight from a wellhead of cinematic yesteryears.
Have you watched Trashin' yet? Did you enjoy the soundtrack? You can tell us all about it in the comment section below!